Voice In is a chrome extension that lets you type into text boxes across many different sites.
Before we being, make sure you are actually using Google Chrome. Voice In does not work on other browsers ! It does not work on Edge / Chromium / Firefox / Brave / etc.
Setup
(1) Allow microphone permissions when asked,

Or click on the video camera icon in the address bar if not asked.
(2) Select dictation language from the select box above. To switch language, you can come back to this page.
(3) First time only: restart Chrome.
UI
After the initial setup, Voice In adds 2 buttons to your Chrome. They can be used to both start and stop voice recognition.
(1) Microphone button right to the Chrome's address bar.

(2) In any text-field, right-click on the mouse, and then, in the drop-down menu: "Start / Stop Recording"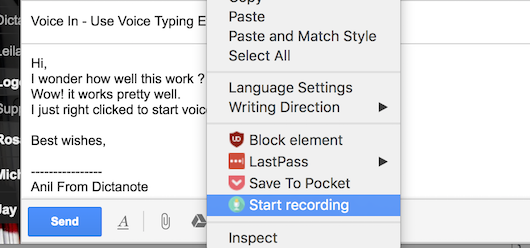 To start or stop voice recognition
Place the caret in a text-field you want to type in, and click on one of the 2 buttons introduced above. The microphone button next to the address bar will turn red. Start dictating.
That's all. Let the voice typing begin !