Custom voice commands lets you correct common dictation errors, for example: one user reported that due to her accent, when she says "new line" to insert a new line, it always gets dictated as "Uline". She can correct this error by adding a voice command mapping "Uline" => "<newline>". So next time she says "new line", it will actually trigger the new line voice command.
Custom voice commands are also used to simplify common tasks. For example, a sales person would map "thank you message" =>
"Thank you for purchasing from XYZ Store.
Thanks,
ABC"
Another example, a doctor who is doing a general checkup of a patient would map "checkup text" =>
"General/Constitutional:
overall health: unchanged
Chills: denies
Fever: denies
Night sweats: denies
ENT:
Clogging in the ear: denies
Ear pain: denies
Nose/throat problems: denies
Sore throat: denies
Respiratory:
Cough: denies
Hemoptysis: denies
Shortness of breath: denies
Wheezing: denies"
This saves time with having to copy paste this block of text before every consultation.
To create a custom voice command, make sure you have upgraded to Voice In Plus.
Open the Voice In options page by right click on the Voice In icon and selecting options: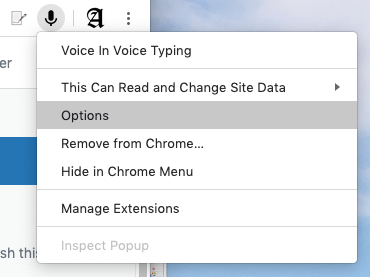 In the options page, click on Add New Command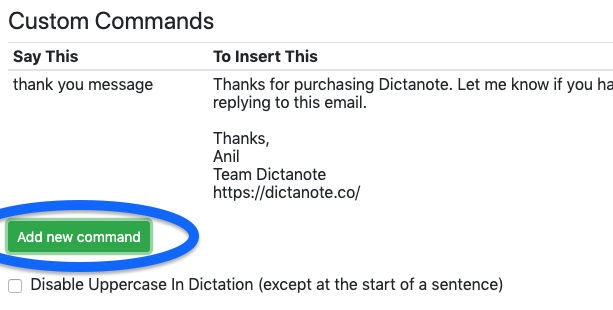 Fill out the form and click Add to add the new voice command. The voice command should now be active.
Make sure to refresh any existing pages to enable the voice commands on those pages.