Dictanote lets you effortlessly switch between using your voice and keyboard to type out information. Dictanote combines a Word-like editor with advanced speech recognition capabilities to give you a productivity boost in your everyday work. 
This guide will walk you through the different components in the app. 
The App Layout 
Below is the app you see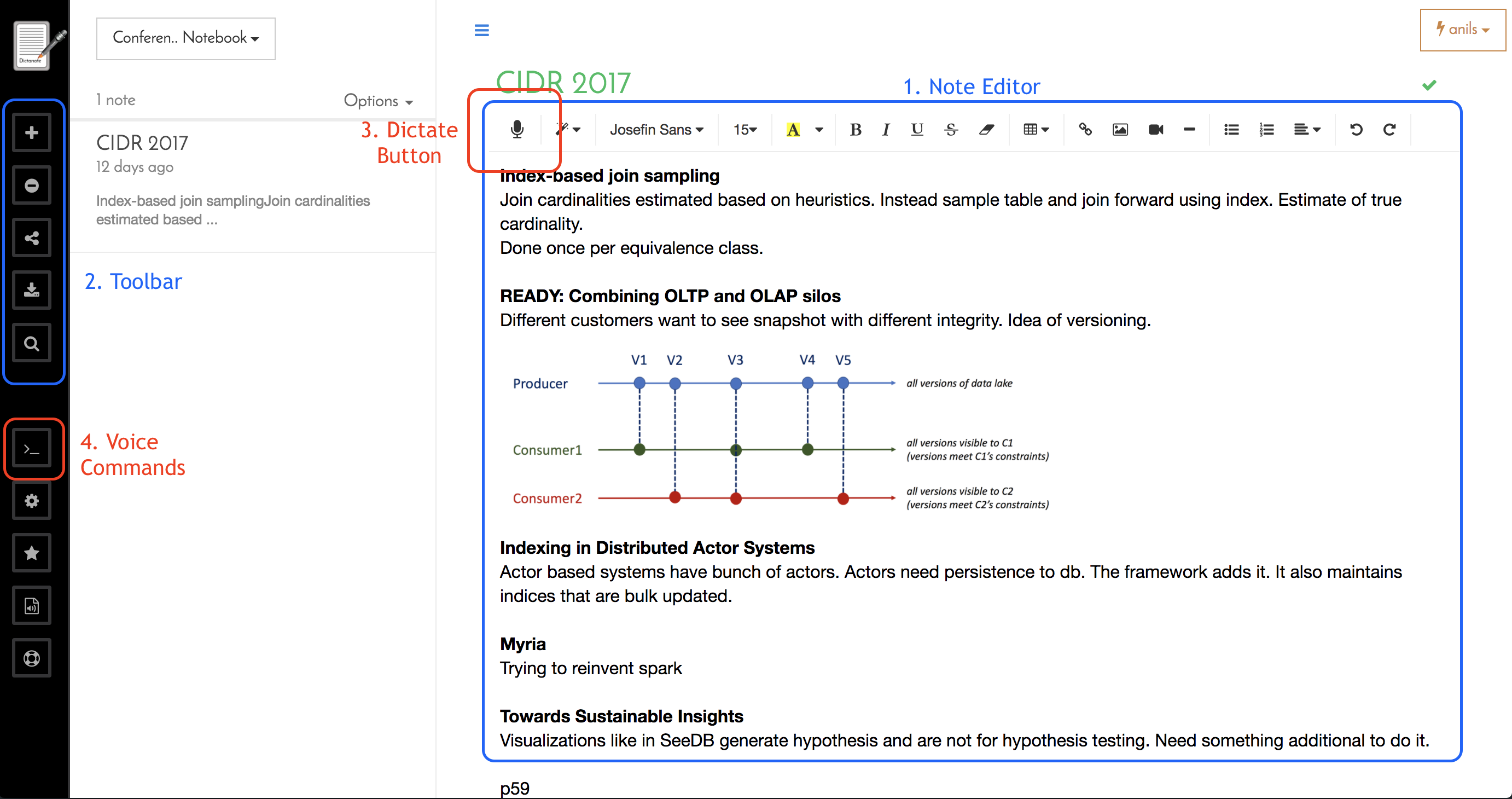 Lets dissect the different parts of the interface:
1. Note Editor: Dictanote has a feature rich text editor which allows you to do most of the formatting possible in MS Word. You can edit the content and the note title. Dictanote auto saves when you update (note: there is no explicit save button).  
2. Toolbar: Toolbar is left pane, it has a number of buttons to create, delete, share and download your note. 
3. Dictate Button: Clicking the little microphone icon starts dictation. You can dictate and Dictanote will write it out for you.
4. Voice Commands: Well many a times, you want a particular to word to do some action. Saying 'smiley' should insert :-) ; saying 'undo' should undo, etc. Add your own commands through the voice commands settings.
5. Upgrade: Finally, to keep Dictanote up and running we do offer a 'Pro' membership. Pro lets you unlock many features that will make you more productive with Dictanote. 
Voice Typing 
You can start voice typing by clicking the microphone icon.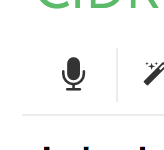 When you start voice typing, the interface changes to below:

The interface shows a preview of text you dictated. Once it is sure of it, it gets added to the body of text. You can dictate for 10+ minutes at a stretch. 
Voice Commands
Voice commands let you customize the voice typing to suit your needs. You can map particular words to transform to other words, for example 'full stop' becomes '.' . There are special commands to execute specific action like line break and undo. For example, you can map 'next line' to '<newline>' to get a line break when you say next line.
For a complete guide on voice commands, check out link.
Organizing Information
Dictanote lets you organize your information efficiently into notes and notebooks. A note is like a file - it stores all the information about one topic. A notebook is a collection of notes.
For example: you could have a cooking recipes notebook and many recipes inside - each as one note. 
You can create new notes by clicking on the '+' button shown below.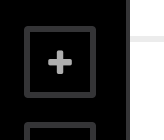 Convert Audio Files To Text
Dictanote provides a premium service called Transcribe. Transcribe lets you convert audio files into text. Transcribe supports all the 40 languages supported by Dictanote. It is an offline process. Once you submit your audio file, you will get your transcript within an hour. To know more click on the Transcribe symbol in the left toolbar (shown below) or alternatively go to https://dictanote.co/transcribe/.

Settings
You can modify the language settings, theme settings and editor settings by going to settings. Click on the setting icon (shown below) to open the settings.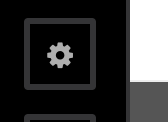 With language settings, you can change your dictation language. Theme settings let you switch between themes. Editor settings let you configure the default font and font size for your editor.
Help
We have a vast number of help articles at https://support.dictanote.co . However if you can't find what you are looking for, you can submit a help request at link.